Hotel Introduction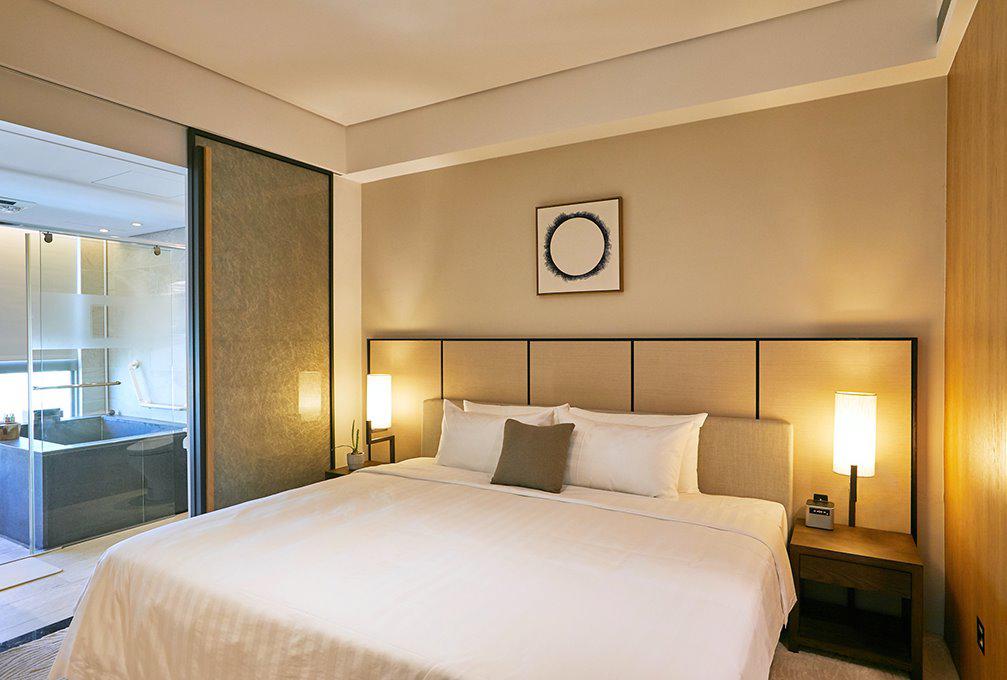 'YUN' is a 'confluence and accumulation of rich abundance'. It is a worldly yet all-embracing and open-minded attitude towards life. The understated, elegant and Zen design of the estate reflects its low-key refinement and inclusive hospitality – this is where simple and unostentatious minimalism embodies the most carefree and leisurely quality living.YUN Estate Hotel is blessed with breathtaking scenery that features a harmonious balance of the five elements: the romantic and splendorous GOLDEN sunset, the natural WOODY mangroves, the energizing hot springs where WATER meets FIRE, and the lush EARTH of the surrounding mountains come together to create the unique YUN experience.Come purify and rejuvenate your body and mind with the power of the five natural elements. Immerse yourself in the soothing waters of this blessed land, and experience the ultimate physical and mental relaxation.
Tel:02-26227888
Hotel Address:No.18,Ln.79,Danjin Rd., Tamsui Dist.,New Taipei City 251,Taiwan
Room Introduction
The guest rooms are named after the elements: the autumn-themed Golden Lodge, the winter-themed Water Lodge, the summer-themed Fire Lodge, the spring-themed Wood Lodge, and the Earth Lodge for the beginning of each season. Each room blends beautifully with a specific season. The room interior features a minimalist and elegant design with Oriental and Zen elements. Each room has its own living room, dining area, bedroom, hot pool, and 818-1,600 sqft of well-illuminated spaciousness for aesthetic and tasteful living. The bath accessories are Bamford or L'OCCITANE, a natural and organic brand. Guests can enjoy a private moment of exquisite and luxurious elegance in their personal hot pool and experience ultimate and thorough relaxation and rejuvenation for the mind and body.
Leisure Facilities
Goethe once said that "People love to travel not because they want to arrive at the destination, but because they want to enjoy the journey."The bright and spacious gym provides a space for the weary traveler to relax and recharge. In the evening, take a stroll along Sunset walkway to admire the breathtaking view of the sunset over an awesome martini. The indoor rock climbing wall provides quality bonding time with your family, and DIY courses provides a fun filled learning experience. YUN Estate Hotel seeks to provide a leisurely space and various thoughtful facilities to allow guests to create blissful memories with their loved ones and friends.
Restaurants
YUN Estate Hotel infuses each dish with multicultural elements. The Sun Table uses carefully selected local produce to prepare dishes that blends Taiwanese and Western influences. Each dish is elegant in terms of flavor and visual appeal. At night, enjoy a glass of delicious wine or tea and your favorite book at the Book Lounge for a tasteful and delightful evening. Guests have access to the freshest and most unique cuisine anytime, anywhere.
Directions
YUN Estate HotelAddress: No. 18, Lane 79, Danjin Road, Tamsui District, New Taipei City
Travel GuideWe are located near Hongshulin MRT Station along Danjin Road in the direction of Sanzhi Station. From there, we are accessible via foot, public transport or car, or you may transfer to Danhai LRT and alight at V02 Ganzhenlin Station before walking to the hotel from there. From Taoyuan AirportFrom Taiwan Taoyuan International Airport, take the Airport Express to Sanchong Station (O15) toward Nanshijiao, then transfer to the Tamsui-Xinyi line at Minquan West Road MRT Station (O11). Alight at Hongshulin MRT Station (R27), we are a ten minute walk away. Or you could take our shuttle service from the MRT Station.By CarFrom Taoyuan International Airport, take National Highway Number 1 (Sun Yat-sen Freeway) and exit into County Road 107 via Wugu Interchange, followed by County Road 103 and Provincial Highway 15 (Binhai Expressway) till Bali, cross the Guandu Bridge. Drive pass Zhuwei and Hongshulin MRT Station toward Sanzhi till you get to 77 Lane, Danjin Road. Turn left and you will see the hotel. Or you may set the address on your car navigation system to: No. 18, Lane 79, Danjin Road, Tamsui District, New Taipei City, and let it guide you across Guandu Bridge toward Tamsui - Chungcheng East Road - Denghui Boulevard - Ganzhenlin MRT Station; turn left in front of the station to enter Lane 77 followed by Lane 79, and we will be located to your right.By MRTMRT: Take the Tamsui line to Hongshulin MRT Station followed by a ten-minute walk.Danhai LRT: Take the Danhai LRT to V02 Ganzhenlin Station followed by a two-minute walk.By Bus (Station Name: Pingding Intersection Station)Red 23 (Fisherman's Wharf - Hongshulin MRT Station),957 (Danhai New Town - Hongshulin MRT Station)818 (Hongshulin MRT Station - St. John's University)1505 (Zhonghe - Danhai)Alight at Hongshulin MRT Station along the Tamsui Line and transfer to Bus Service Red 23.Alight at Pingding Road Station, and take a two-minute walk to the hotel.